Our New
Handheld Contact Mac
Same Navigation as Handheld API with Contacts, Opportunities, and more!

Welcome to the Handheld Contact software for Mac! This application allows you to access all Activities, Notes, and Histories and anchored off the Contacts, and while we still support email blasts, merge mailing is not supported at this time. Email integration is not specific to Outlook as much as the default email client, as HHC for Mac queues outbound email, where it's drafted and then handed off to the default email client for delivery.
It is important to acknowledge this application is NOT Act! for Mac. Like other versions of Handheld Contact, our new Mac version does not support access to groups and companies, and it does not support custom tables. There is also not reporting or e-marketing capability with HHC for Mac.
Unlike Handheld Contact API, though, list views can be exported to the Mac version of Excel, and there is no limit to the number of fields that can be mapped to the Mac application (our mobile clients are normally limited to 75).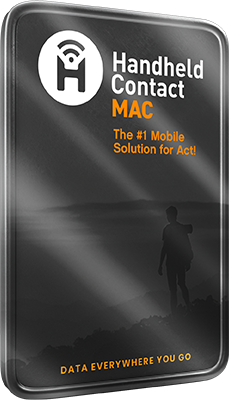 SYNCS DIRECTLY WITH THE MASTER DATABASE USING THE ACT! WEBAPI
SYNCING CONTACTS, CALENDARS, TASK LISTS, OPPORTUNITIES, NOTES & HISTORIES


• Local installation via the App Store.
• Sync data directly with the user's master database via the Act! Web API.
• No middleware to sync.
• Unlimited sync amounts of Contact, Opportunity, Calendar, Task List, Notes & History details to and from the master database.
• All data remains local (requires no Internet to manage).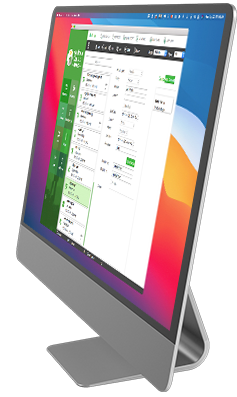 The Dashboard displays a quick summary of contacts, activities, and opportunities at the top, with three columns below it displaying Today's Activities, This Month's Opportunities, and Upcoming Annual Events.

The calendar view offers daily, weekly, and monthly views of all our activities, with the Task List displaying them in a familiar list format with details on the right.

Syncing can be set to a schedule, or done on-demand, whichever suits the user's needs.

Preferences include the option to "Save email as History in Act!", Sync every user's opportunity preference, HHC & Act! Account preferences, Default Task Add preferences which contain Type, Priority, Ring Alarm, Duration, Schedule with, Timeless. Preference for clearing date/time similar to Act!, as well as Auto Sync preferences.