In January of this year we released "Handheld Contact Basic" as part of our API series of products. As much as we've been committed to adding features to the leading mobile solution for Act!, we thought a simpler, lighter and cheaper solution that contained user's contacts and calendars would be welcome by some. This new version wasn't so much a new product as it was a "feature-gated" version of the existing premium Handheld Contact API.
Needless to say, the feedback was positive because customers always love choices.
It was in this spirit that we decided to offer the same option to Classic users. Unlike API users, HHC Classic customers tend to use both Act! Pro and Act! Premium, with many of the latter using perpetual licensed products with no ongoing subscription costs. We knew these customers might welcome a cheaper mobile option, so we recently undertook to create a feature-gated version of Classic, as well, and the new "Handheld Contact Basic - Classic Edition" should be completed this week, and scheduled for release by the end of the month.
Our reasoning for this new Basic release is simple. With all the innovations of the past few years, we became concerned that many of our loyal customers might like a version closer to what they had for 15 years with the original HHC – namely contacts & calendars only, but offer this basic service at a steeply discounted price.
So we decided to go "back to the basics - again!", and introduce the newest "Handheld Contact Basic", a feature-gated version of our Classic product that will be available for $48 ($4/month, paid annually). HHC Basic customers will still enjoy traditional Classic features, but some of the premium features introduced the last few years will be suppressed. For example, HHC Basic customers will get all Contact & Calendar features they're used to, including the new Favourites, Sharing, and Alerts, but premium features like opportunities,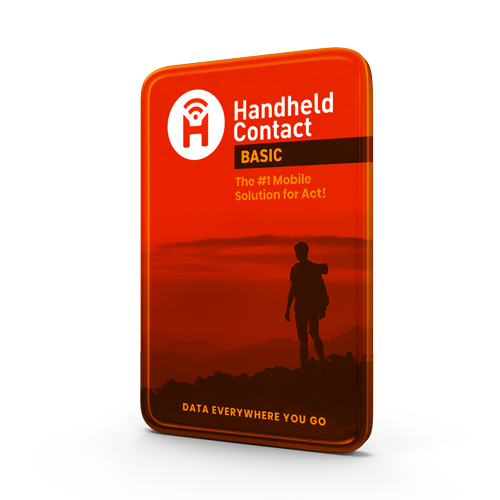 mobile mapping, quoting, reminders, secondary contacts, Searches, and importing & exporting won't be unavailable.
Handheld Contact Basic will include the following:
Wireless syncing of contacts, calendars, task lists, notes & histories
Windows Classic Console for added control and management
15K contact limit
New Dashboard, Favourites, Sharing, and Keyword Search
Modern new look
One of the beauties of feature-gating a product like Handheld Contact is the customer's choice of subscription will control which features the customer has access to, not the software they download & install. So if a Premium customer wants to downgrade to Basic, or a Basic customer wants to upgrade to Premium, there is only one program to install, and whatever subscription you apply will dictate what features you get.
Very simple.
In addition to 40% cost savings, Handheld Contact Basic also offers your team flexibility. Instead of being forced to pay for Premium features, some users may not require, you can tailor-fit your HHC subscriptions to the needs of the users. For instance, salespeople may need the Premium service to access their Opportunities, whereas the rest of the staff may be perfectly content with just the contacts and calendars on their phones.
Handheld Contact Subscription Options
However you slice it, we think the choice is good, and we think our customers will agree as they now have a wide selection of Handheld Contact products to choose from:
Handheld Contact Basic is scheduled for release in the final week of September 2021, and will be available in both IOS and Android versions. Please check either GooglePlay or the AppStore for availability in your region.