HANDHELD CONTACT HAS SOME BIG NEWS!
Last week Handheld Contact completed several months of development and submitted to beta new updates for both Android and IOS versions of Handheld Contact API, and both have been approved. We're extremely excited about these releases as they include numerous features our customers have requested for years. IOS and Android versions should be available for download from their respective stores this week or next.
Here's are the highlights of a very long list of new Handheld Contact features and options:
Picture Transfer: Attach new or existing photos to a contact from your device and sync those to Act! as a History, including those photos. Field techs, Real Estate Agents, and others can finally take photos from a site location and share them with the rest of their Act! team. Includes auto-sizing prior to transfer


Quick Tasks: Ever want to quickly jot down lots of reminders, like in a scratchpad, and either clear them separately, or send them to Act! as tasks. How about assigning a bunch of tasks to different users on the fly?
Not convinced? Imagine organizing this list of Quick Tasks into categories with nested sub-tasks for simple project management?


Opportunity Manager: Ever want to change the status of a selected group of Opportunities at the same time? How about pushing a number of Opps into the next month in one -step? You can't do either in Act!, but now you can do bother with HHC.


Feature Gap Reduction: For those holding off moving from HHC Classic to our API version on account of the feature differences can finally end the wait.
Handheld Contact API now includes quoting/invoicing, Mobile Mapping, Importing & Exporting of Contacts, Importing & Exporting of Calendars, Searches & Keyword Searches, Favorites, Sharing, and Contact Copying.


Improved Alerts: Our exclusive Alerts feature now supports upcoming Opportunities that are scheduled to expire.


New popup menu: We've added so many new features to this release, that we were forced to include a new popup menu for IOS to quickly & easily access them.


Sync improvements to help data accuracy: One of the frustrations we've had with syncing activities via the WebAPI is it did not capture cleared activities properly. Since we can't fix Act!'s WebAPI, we built some effective workarounds to refresh the tasks list with full updates to ensure your calendar is always accurate and current.


Assorted other updates: Improved SaaS compatibility, profile pictures, color coding of activities, and Invites for Activities.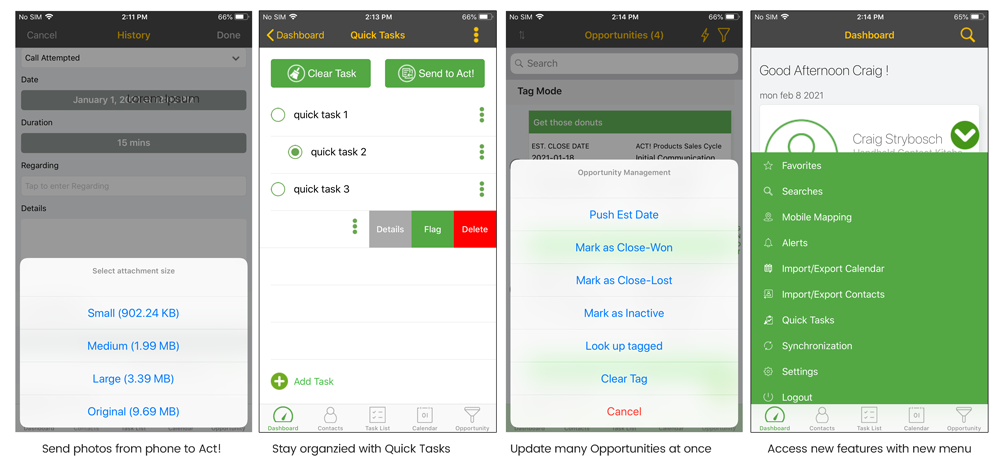 and last, but not least...
Handheld Contact Basic
The newest member of the API family is actually a feature-gated version that allows our users to save almost 40% on their subscription costs by using only Contacts and Calendars, without some of the features added in recent years.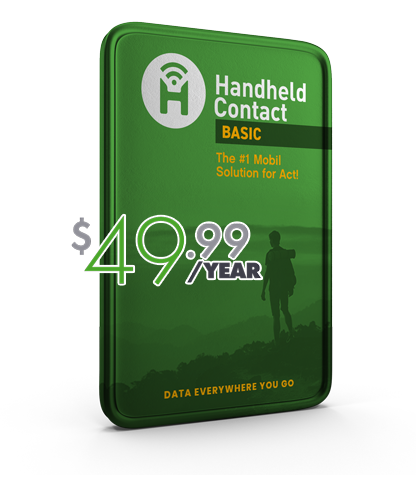 Handheld Contact Basic still includes key API features like:
Wireless syncing of contacts, calendars, task lists, notes & histories
Fast setup with no computer software to install or configure
Export contacts to native address book
No Windows Console needed, syncs directly with the master database using the Act! WebAPI
Sync unlimited contacts and calendar items as fast as our Premium API version
Sync with multiple devices per account
Dashboard with contact sharing & copying, Alerts, Favorites, Tagging, Invites, and Keyword Searches, along with all email and SMS communications tracked in History
Modern new look
LEARN MORE ABOUT HANDHELD CONTACT BASIC