Handheld Contact 3.1.0.3 for Android is now available on Google Play and includes support for Sales Opportunities, one of our most-requested features, and an intuitive Tag Mode to quickly perform actions with multiple Act! Contacts.
Use an Apple iPhone or iPad? Stay tuned — Sales Opportunities and Tag Mode will soon be available for Handheld Contact for iOS.
---
FEATURE HIGHLIGHTS
Sales Opportunities
Critical Sales Opportunity and Product details are now available at your fingertips so you can convert leads, drive sales, and track progress conveniently from Handheld Contact. We are excited to deliver an Act! feature that sales professional depend so much on and carefully designed Sales Opportunities to help boost productivity with the details that matter.
Highlights:
View and manage Sales Opportunities.
Sort and filter Sales Opportunities.
View and manage services or products attached to Sales Opportunities.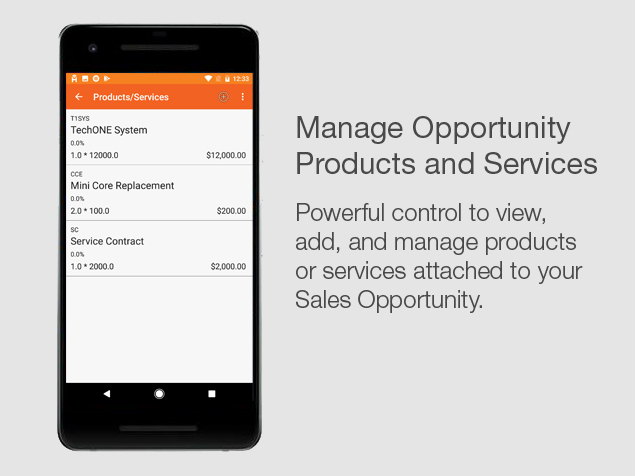 Existing Handheld Contact user?
If you plan to use Sales Opportunities in Handheld Contact you will also need to ensure your Handheld Contact Computer Application is up-to-date and that Sales Opportunities is enabled on any accounts requiring it.
Read these instructions to add Sales Opportunities to your Android device:
Tag Mode
Tag Mode in Handheld Contact is based on the Act! feature and focuses on fast, seamless interactions with multiple people. Select multiple contacts in your Contact List in Handheld Contact and with a single press instantly create a lookup, send them an e-mail, send them a text message, or pinpoint their addresses in a single map to see where they are.
---
Other Improvements in Handheld Contact 3.1.0.3 for Android:
Import Contact user interface improvements.
Fixed orientation change issue that may have affected tablet users.
Fixed a layout issue that may have made the "Remove" feature inaccessible for contacts with long names in the "Schedule With" list when creating a Task.
Fixed an issue affecting tablet devices where pressing back from the Settings or Sync Status screen did not return to the Home screen.
Important information about this release:
Existing users must upgrade the Handheld Contact computer application on your Act! server to version 4.2.0.1 or higher to take advantage of Sales Opportunities in the Handheld Contact Android app. Instructions are available in our knowledge base: Adding Sales Opportunities to an existing Handheld Contact account

Handheld Contact mobile app for iOS (Apple devices) currently does not support Sales Opportunity but it is scheduled to be released in the near future. Stay tuned for an official announcement on our blog and social media.
Need assistance?
Send our support team a message